Ang Thong National Marine Park

Ang Thong National Marine Park
The second trip we made from Koh Samui was to Ang Thong National Marine Park. To be honest, we were a little confused because we also wanted to see Koh Tao… what to do?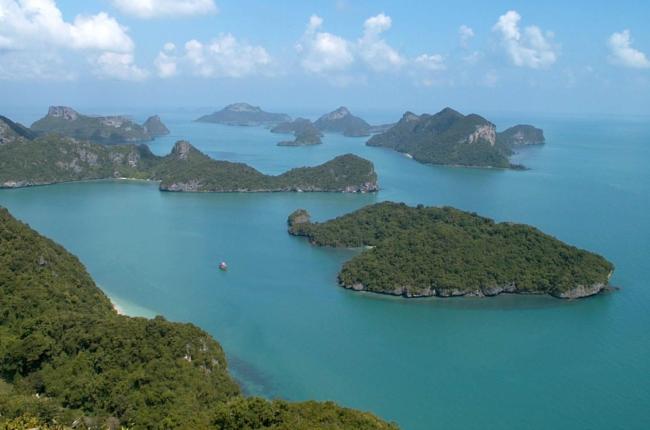 Ang Thong, parco nazionale marinoIn the morning we went to a tourist agency on the beach and we had had a talk with Tam, a young but clever boy who advised us to choose Ang Thong because it is very beautiful and not so far as Koh Tao.
We trusted him, but we forgot to ask him how much it took to get there: two hours to go and of course two hours to come back! We went there with a big boat that was full of people of different nationalities, and only later we found out we could have gone with a speed boat, of course we would have spent more but we could have avoided a long tiring journey!

We left from the hotel rather early, a bus came to pick us up and took us to the other side of the island, There were lots of boats and buses, we got on our boat and we were offered tea, coffee and cakes! And then we left! While we left Koh Samui we could see Koh Phangan on one side, but then only sea around us!
Kayak!
Our guide was a girl, not so very young, called Cristina; I think she was German because of her accent while speaking English! She told us that, as soon as we would get to our destination (there are about 42 small islands) we would make a tour by kayak to admire the rocks, then there would be lunch on the boat and another stop on another island.
At last we got to destination, the crew members gave us a life jacket and each couple got on a kayak! Gianni and I decided that he would stay on the back to row and I would stay in front and take photos… a good solution, isn't it? We met Cristina in her kayak, there were some problems with some people who were not so expert, but in the end we were all there, ready to go!
The landscape was  amazing, the sea was clear and the rock were incredible: there were caves, small beaches. I took lots of photos, but not all of them were very good because I could not move as I wanted. Every now and then we stopped, because Cristina wanted to check if everyone was there. And after 35 minutes of this sport activity we landed on a beach.
 There, we could climb on the top of a hill to admire the view and take photos, there is a small nice lake, so Gianni went up and I stayed on the beach, bought some water and took some more photos. There is one I like a lot, where you can see Cristina taking a row of empy kayaks back to the boat.

We eat!
After half an hour, we reached the big boat by long-tail boat. When we were there, we gave the life jacket back and we received a plastic tray, because lunch was being served. As usual we ate rice, fried chicken and fruit!

While having lunch, we talked to the people sitting near us, a very young German couple (but thank God they spoke English) and two Australian people. We were talking about our journeys, when Cristina interrupted us to explain what we could do during the next stop.
We could go and visit some caves, but you have to climb for at least 30 minutes; or we could get to the tallest point of the island to admire the view, but the trip was not so easy, even because Gianni and I are not particularly trained for this. So we decided to stay on the beach, swimming and snorkeling.
Snorkeling
This was not a very good idea, because the water was not clear and we couldn't see anything, so we swam for a while and then we had a coffee at the kiosk and visited the souveni shop!
When we got back on the big boat, the crew invited us to dive from the main deck. The younger people didn't hesitate and for a quarter of an hour everyone was up and down the boat. Even Gianni enjoyed himself, while  the crew went on shouting "Jump"!
When the boat left for taking us back to Koh Samui, everyone was tired and some people even fell asleep.
On the whole it was a nice experience, but honestly I expected more and I hoped I could take more photos and better quality, but nobody had informed us that the climbing would be so hard… and after all I think that maybe Koh Tao would have been a better choice.
You can find more information by clicking on this link:
http://www.kosamui.com/ang-thong.htm