Washington DC The capital of the USA

Washington DC The capital of the USA

We got to Washington DC late in the afternoon, it was cloudy and not so hot.
Our hotel was the Washington Court Hotel, we were very near the Capitol and the railway station. We chose this hotel (even if it is a little more expensive than we wanted) because on the Internet we had read that the American capital is the most dangerous city and the rate of criminality is rather high! So everyone recommends to choose hotels in the city centre and of a high level!
The hotel is wonderful, there was a man that opened the door for you when you had to enter or go out, and called a taxi for you if you needed one, there was valet parking, and everything seemed very luxury. What I loved more was the panoramic lift inside the hall, that takes you to the rooms.
We had a look at the restaurant menu, but the price was so expensive that we decided to have our dinner somewhere else. Just outside the hotel there is a place where we ate a nice hamburger with chips, there was a powerful wifi so could use Skype to give our news to the family home.

The Capitol
The morning after the weather had got worse, but we had got our coats and umbrellas. We walked to the Capitol , we had a very close look at it and took some pictures, then we decided to take a tourist bus to make a tour of the city. It was incredibly full of tourists, most were Americans, we were rather surprised there were no other Italians!
Our first stop was at Lincoln Monument, the landmark devoted to the 16th President of the USA. it is a building with lots of pillars and inside it you can see a huge statue of  President Lincoln.
It is at one end of the National Mall, while on the other side you can see Washington Memorial, a tall obelisk. By law, no building in the city can be taller than it!
Unfortunately the "reflecting pool" (the big rectangular lake in front of the monument we have seen in so many films) was dry because they were making some works. But it was not a problem, everything was so beautiful and imposing.
Then we went to discover the Vietnam Veterans Memorial, it is a very long wall made in black marble and on it are engraved all the names of the soldiers who died in the Vietnam War. And nearby you can see a bronze statue called "The Three Soldiers", it represents the white-American soldier, the afro-American and the Spanish-American.
Arlington
We got back to the bus stop, because we wanted to go and see Arlington Cemetery. We crossed a bridge over Potomac River and we got there.
In this military cemetery are buried the veterans of all American wars, it is very wide and we were advised to take a little train that takes you wherever you want. But in spite of the rain, we decided to walk, there were only two things we wanted to see: the monument to the Unknown Soldier and John Fitzgerald Kennedy's grave.
We got very soon to the grave of the dead President and of his wife Jaqueline Kennedy Onassis. I must say it was a very strong emotion, when Kennedy was killed I was very young, two years old, and of course I don't remember much, but I have read and heard a lot about this event. Above all, what stroke me was to see how simple his tomb is.
There is a round area, on one side there is a small wall on which is engraved his famous speech, the first one he made as a president ("don't ask what your country can do for you, but what you can do for your country"), and on the other side there are two very bare and simple tombstones with the names, date of birth and death, and in the middle a lamp.
The Change of the Guard
Walking, we went to our second stop. There was an incredible crowd, we had got just in time for the Change of the Guard; but not only, there are a lot of generals and other important people. When I asked why, I was told there was an important celebration of an anniversary, so we couldn't get near the tomb. But we enjoyed the cerimony of the Changing odf The Guard very much, the "Guard Sentinels" are very elegant and martial. We also tried to make a video but with all that crowd it was impossible!
And after this historical overdose, we went back to the cemetery entrance and got the bus to go back to the city center. And then back to our hotel because we were tired! We had a shower and then had dinner in the same place as the night before.
The morning after we take a taxi to go the National Archives. We got there very early, and there were very few people, but in a very few minutes a big crowd arrived. We were among the first to be admitted and to be carefully checked, safety measures are very strong.
At last we can enter the "Rotunda" (a very big and round hall) where we could admire the USA Constitution, the Declaration of Indipendence and the Bill of Rights.
I found this visit exciting, another piece of story in front of us!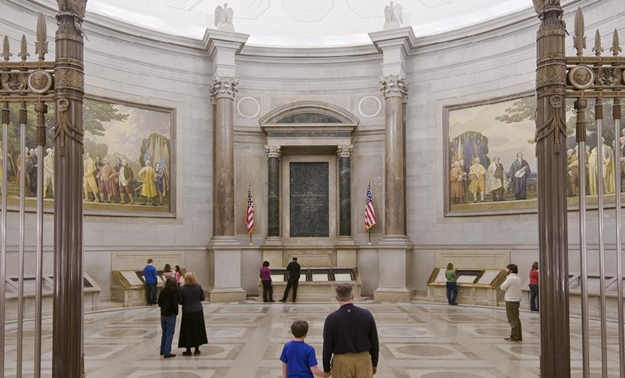 The National Archives
We didn't stay for long, and when we got out we made a walk, admiring the nice buildings, the policemen moving by segway, the heavy traffic. We stopped somewhere for lunch and then we went to see the White House. I had read that it is possible to visit it inside, but you have to make a special request to your Embassy six months before. I wanted to do it, but I had not enough time, so we only had to watch at it from the outside. Rather disappointing, it was very hard to take photos, because it was really far from the street! Moreover, you cannot stop for long, because there are a lot of people who want to see it!
Obama???
My son Manuel wanted to have a little shopping, we were looking for some department stores when we realized there were a lot of police cars and they were closing down many streets… what was going on?
We stopped because we were very curious, moreover we overheard the people around speaking of "the President" and "Obama"… were we going to be so lucky to see the most powerful man in the world?
The people on the side of the street were becoming more and more, the waiting was harder and harder… and in the end we found out it was only a march against AIDS!

Last day in Washington! We decided to visit some museums. Gianni wanted to see the Smithsonian, I thought it was only one museum; in reality it is a research institute that runs several museums, not only in Washington but also in New York and Virginia. We chose the National History Museum, we spent a lot of hours inside because Gianni was completely fascinated by the mineralogy section (that was the main reason we had chosen that museum). Once outside, we also wanted to visit the American Indians museum, but it was rater late and there was a terrible waiting line to enter, so we preferred to go back to the hotel to pack up!