Scotland 2008
Scotland: a country of castles, ghosts and bagpipes. And of strong and proud people.
I imagined it like that and, but for ghosts, it was like  that!


Edimburgh
The two things that stroke us when we got to Edimburgh from the airport (we took a shuttle that took us just in front of our lodge) were the castle and the cold. It was July, but the temperature was no more than 12/13 degrees. Luckily we have got sweaters and jackets with us.
Ours was not really a hotel, but a room inside a university campus. It was rather small, and we were not very close to the city center, but there was a bus stop just in front of the campus, so there were no problems.
It was about 4 in the afternoon and we hadn't had our lunch, so we walked to the centre. The way is longer than we thought and when we get to High Street (the most important street) we were rather tired. We took shelter in a pub, whose name  "End of the world" is rather frightening and ordered fish and chips. Maybe because we were very hungry, but it was very good!
We walked for a while on High Street, that is also called Royal Mile, because it is about 1 mile long and it links two royal residences: Edimburgh Castle (that by now is a famous museum) and Holyrood Palace, that is the residence of the Queen, even if for a few days every year.
The buildings walls are rather dark, but they are full of history, we saw a lot of  people wearing  kilt (weren't they cold??) and a couple of bagpipers with their wonderful clothes. We were really excited, the city is nice and we liked its atmosphere!
We went back to our room because we were cold and tired, and while Gianni was having a shower I was in front of the window to watch squirrels playing in the park; it was then i realized the heater was hot: what a luxury to be cold in July!
City tour
The morning after we went to have breakfast: never seen such a thing before, there were so many delicious things: pancakes, eggs, beans, fish, sausages, yogurt, toast, jam… we are not used to have breakfast, we usually only have a cup of coffee, but that day we decided to try everything!
The program was to make a tour of the city with one of those red, double-decker buses for tourists. In spite of the cold, we sat on the upper floor and we enjoyed the view. We saw imposing buildings, such as the "Scotsman", a very luxury hotel, lovely landscape as Arthur's Seat (it is a hill behind the city), the Parliament that has won important prizes for its architecture (honestly I think it is ugly!), the monument to Sir Walter Scott (the novelist who wrote Ivanhoe).
Then, the bus headed to the sea, and there we could see the Royal Yacht Britannia, the Royal Family's yacht.
Then, we really needed a break, it was really cold and it had started raining. We went to the usual pub and had the usual fish and chips. It was unbelievable, but we were always very hungry!
In the afternoon we had a nice walk and, taking advantage of a pale sun, we stop in a wonderful park just below the castle that in the past was a lake. The women who were suspected of being witches, were immersed in the water, but their hands and legs were tied. Most of them, of course died drawned; but in the unlikely case they didn't, they were burned because only a witch could survive such a trial! The lake was then reclaimed, because it produced marsh fever!
While we are going back to High Street, we saw a group of persons, they were watching a street artist who was performing a funny show, his English was a little strange, sometimes we didn't understand what he was saying, but we enjoyed it all the same. We stayed there for a while then we went to buy the season ticket for the bus, because buying a single ticket is very expensive and with it you can save a lot of money!
St. Andrew
For the next days, we had booked some trips with a local agency called Rabbie's. First tour took us to Pitlochry, a small an picturesque village on the side of a lake, then to Queen's View (one of Queen Victoria's favourite places) and to a real Scottish whisky distillery.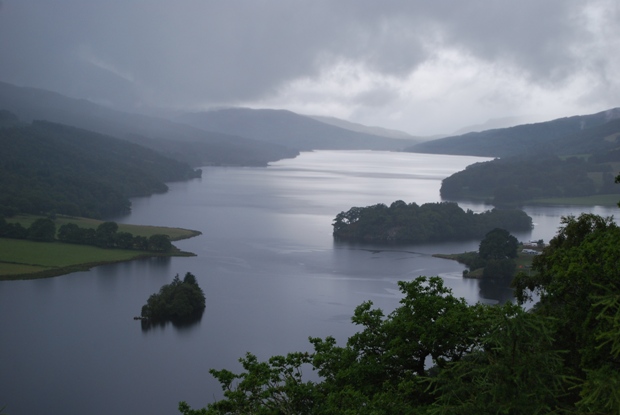 The Queen's View is a panoramic point from which you can enjoy an amazing view, what a pity the weather was not so good. The visit to the distillery was interesting, but nothing special, at the end you can taste the whisky they produced (I didn't), then if you want you can buy some bottles in the shop! But remember that the price is very expensive!
The second tour took us near the sea, we were going to St. Andrew, the world capital of golf, it seems that this famous sport had its origin just there! he journey was very pleasant, we cross some nice fishermen's villages and we see the dark and cold Northern Sea.
Once there, we had the time to visit an ancient ruined cathedral, the ruins of what was once a castle, visit some shops and have lunch.
Castles
The third tour was maybe the best, it was called "lakes and castles". The first stop is at Kilchurn, a castle on a lake.
It is only a ruin, but it is fabulous. We got on the top of the tower to have a better view of the lake, of the very green grass and of the hills around. And of course a lot of photos. We proceeded to Inveraray, we had a look at the castle (one of the most famous), than a walk in the town and just near the lake.
While coming back, we stopped to see another panoramic view called Rest and Be Thankful, that is wonderful but, as the guide told us, it is always swept by a strong cold wind.
On the way, we stopped to meet a Scottish cow, whose name is Amish. It was completely different from all the cows we had seen before, she has very long horns and very long hair.
Loch ness and Highlands
Our last tour took us in the Highlands, in the north of Scotland. The things that stroke us more were Glencoe and Loch Ness.
The former is a wild area, with very few inhabitants, characterized by narrow valleys and forests. In the past it was the theatre of a massacre between two rival clans. Some of the scenes of the film "Braveheart" were filmed here.
Loch Ness doesn't need any introduction: of course we didn't see any monster, but the place is charming, the water of the lake is very dark (I would never have a swim there) and it is very large and deep!

Edimburgh Castle
And at last the great moment had arrived: we are going to visit Edimburgh Castle, and I was looking for it very much!
There was a big crowd, not only a lot of tourists but also many workers that were organizing for the Edimburgh Tattoo (a military parade that takes place very year in August). The castle was beautiful from outside, but it is charming inside. You can visit the War Museum, Saint Margaret's Chapel, and from the ramparts you can enjoy a wonderful view, if the weather is clear you can see even the sea.
A little funny story: there is a gun that is called "One O' Clock Gun", because everyday at 1 o'clock it makes a shot. The choice of this hour is due to the legendary Scottish avarice: why should they shoot 12 times, if you can shoot only once?
When we got out of the castle, the weather was wonderful, so we decided to take a bus and go to visit Rosslyn Chapel, that has become famous after the success of the film "The Da Vinci Code". The place is about 10 km from Edimburgh: there are a lot of legends about it, they say the Holy Grail is kept there, someone says that it was a secret place for the Templars. Anyway, it is really very beautiful, it is not big but it is very suggestive. A pity a part of it was under restauration and it was half covered by some scaffolds.

Our last day in Scotland had arrived, in the morning we went and visit Holyrood Palace. it is beautiful, but the most amazing thing are the gardens, large and very well-kept.
And this is the end of our holiday… let's hope we can come back again!