Nile Cruise
Luxor, Edfu, Karnak and Assuan…the Nile Cruise, on the waters of the holy river… Have you ever dreamt to do it? And at last even for us the great moment had arrived!
Soon after the trip to Abu Simbel, our guide took us to our ship, the Steigenberger Minerva. It is not among the most recent and it was not very big, but the atmosphere was very special. It seemed we had gone back in time, as if we were living at Poirot's time in Agatha Christie's movie!
Our cabin was large enough and very comfortable, but we spent most of our time upstairs on the main dock. From there, we could enjoy the slow sailing on the calm waters of the river. And also have a nice refreshing drink from the bar!
Kom Ombo and Edfu
Our first trip was at Kom Ombo temple. It is devoted to Sobek, the Crocodile God, and to Horus, the Falcon God. The day after instead we visited Edfu Temple. This is devoted to Horus, too, and as far as its size is concerned, it is the second temple in Egypt. It remained buried under the sand for centuries, but in the past it was one of the most important temples.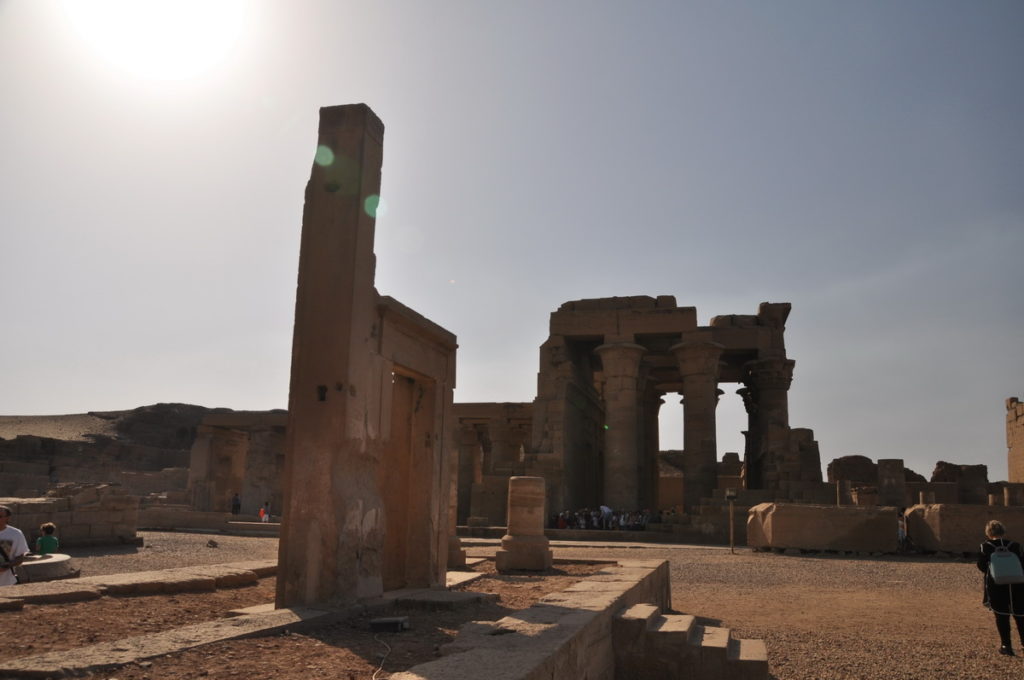 We liked the visit to this temples very much, especially Edfu temple. In fact, we visited this one in the afternoon; even if we had a hat and several bottles of waters, we kept looking for the shadow. It was also funny because to reach the temple we had to take a horse cart; it was amusing to cross the town on board of this unusual means of transport!
Esna locks
Even if the program promised a rich animation on board, the things to do were really very few. Only one night they offered us a belly dance show. It was nice, but nothing special, even because we had already seen it before. But we had a great time all the same, because there were some very nice Italian people and we spent our time chatting!
The afternoon we crossed Esna locks it was very amusing! On the river sides there were people who wanted to sell us every kind of things: table clothes, dresses etc. We were not interested, moreovere it was not possible to deal. So they started throwing their goods at us; and they were very good at this because what they threw safely landed on the ship. Then, some of them even followed us by boat, trying to make business through the cabin windows. Very stubborn!
Luxor
Luxor was the top of the cruise! We had already seen it during a holiday in Marsa Alam, but we were glad to see it again! We took a boat and we went to the west side of the Nile. Then by bus, we headed to the Valley of The Kings.
Our first stop was Queen Hatshepsut's Temple, who is called the "pharaon queen". In fact, she reigned for twenty years over Egypt, granting it richness and prosperity. Her temple was severely damaged by time, some parts haven't been restored, while some are not original.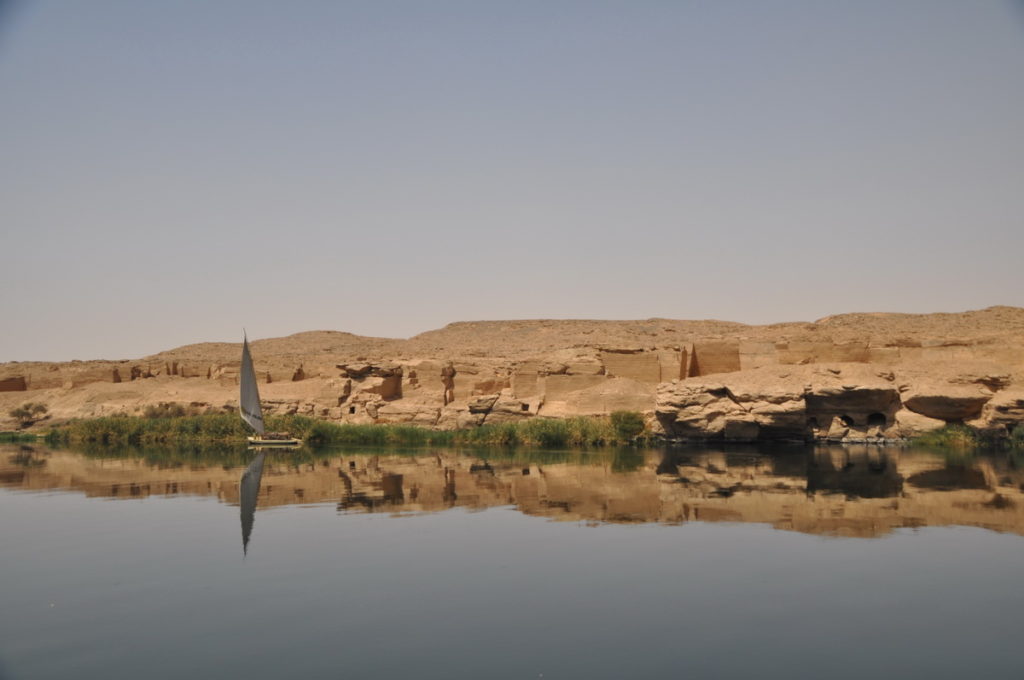 While it was getting hotter and hotter, we stopped to see the Colossi of Memnon, They are two huge statues obtained from one single rock block, they are 18 m. tall. They were set as guardians for a temple that has now disappeared.
Valley of the Kings
The Valley of the Kings is famous because in it there are the pharaons' tombs. They are tunnels dug in the ground, richly decorated; the pharaons were buried there together with treasures, food and all they needed to face their last journey. There 63, but only some can be visited. The most famous is certainly Tutankamon's. It is the smallest, but it is the only one where important archaelogical finds were found, some very valuable. To visit it, you have to pay an additional fee.
Unfortunately, it is forbidden to take photos, so we cannot show them to you!
Luxor and Karnak Temples
In the afternoon we crossed the Nile again to visit the two very famous temples of Luxor and Karnak. They both are very large, they make you feel the greatness of this civilization of the past. In both the temples there are huge pillars and statues. I enjoyed them a lot, even if it was the second time we visited them. In Karnak Temple, I especially like the row of little sphynxes just at the entrance, and also a scarab that brings you luck if you make some rounds around it!
In Luxor Temple, instead, I love Ramses I' statue, it is at the entrance: it is so very big, but it seems this great pharaon was a megalomaniac!
The only problem we had to face was the hot weather! I must say that everyone was happy to go back to the ship, where we spent our last night before leaving to Marsa Alam!