Bora Bora – French Polynesia

Bora Bora
It was certainly the top of our holiday: Bora Bora!!!.  It is perhaps one of the most popular islands in the world, and there must be a reason why it is called the "pearl of the Pacific".
It welcomed us with the many nuances of blue of its sea while we were still on the plane, and it did not disappoint us!
Here we had booked again at Pearl Beach Resort and again we had chosen an overwater bungalow (I am not going to tell you how much we paid for it not to shock you!).  Our bungalow was the last in the row, and it took a lot of time to get there from the reception, so very often we got there swimming… easier and more refreshing!.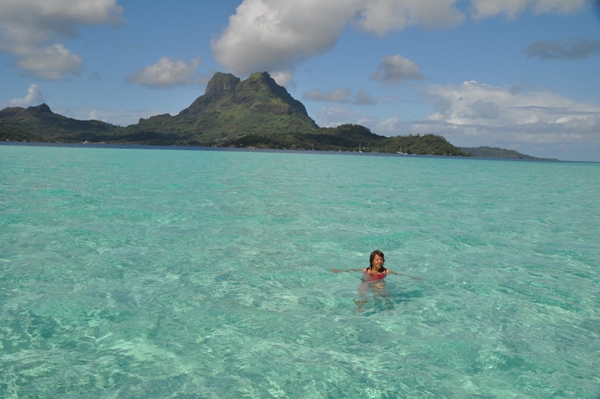 But we had a wonderful view over Otemanu Mount, the mountain that rises just in the middle of the Bora Bora lagoon.
Our staying here was pure relax, and spent it on the beach. Only one day we went to Vaitape, the little village in the middle of the island, just for a visit and to make a little shopping (but very little, considering the prices!).
We were amazed to see that the living conditions of local people are rather poor, and the high cost of living is a real problem for them!
A lot of people still lives on fishing and agriculture (and you cannot grow much on a coral island), only the people who work in tourism earn a decent salary.
The Lagoonarium
The day we spent at Bora Bora Lagoonarium was fantastic; by boat you get in a particular area of the lagoon called "Coral garden" where;
I swear, there were so many fish as I had never seen before, to take pictures underwater was a little problem!
Then we got to a "motu" (little island) where we swam among sharks of any kind; we touched sting rays… well, in short we were in the water all the time!
Then we had lunch; everything was so very good and we had a lot of fun with the guides that organized a "pareo show" teaching us the many ways you can wear a pareo!
Bora Bora was a fantastic experience, but as all the beautiful things it was soon over… and we were again on a plane to Tahiti, the last stop of our Polynesian adventure!